Local Lawn Care Company | Oshawa
Founded in 2014, Royal Blue Property Maintenance is a locally owned and operated lawn care company based out of Oshawa. Our services include lawn care for homes and businesses, weed control, gardening and landscaping. We also offer snow removal and salting during the winter. If you are in the Durham region and looking for a comprehensive property maintenance package with a close-to-home touch, contact us today! We proudly serve Oshawa, Whitby, Ajax, Pickering, Bowmanville, Courtice, and Uxbridge
A beautiful lawn doesn't happen on its own.
Expert Advice Tailored for You
Is your lawn starting to look a bit scraggly and patchy? Is your grass beginning to discolour? Act now to prevent further damage! Neglecting your lawn care can eventually lead to more costly repairs, as you may need to deal with overgrown vegetation, overrunning weeds, poor quality soil, and much more. Here at Royal Blue Property Maintenance, we have several years of experience with the latest lawn care tools and techniques. We won't stop working until your yard is tidy and looking better than ever!.
Our team will handle all the annoying and time-consuming lawn upkeep activities. Say goodbye to lawn mowing and lawn aeration and let us reveal the true beauty of your own backyard. In addition to boosting your home's exterior look and feel, a well-kept garden can also boost morale.  Our hardworking team is committed to creating an outdoor space you will absolutely love. With our skilled and personalized approach to outdoor maintenance, you can be sure that as well as being exquisite, your lawn will be healthy and hardy enough to withstand bad weather. Call now for more details!
Act now to prevent further lawn damage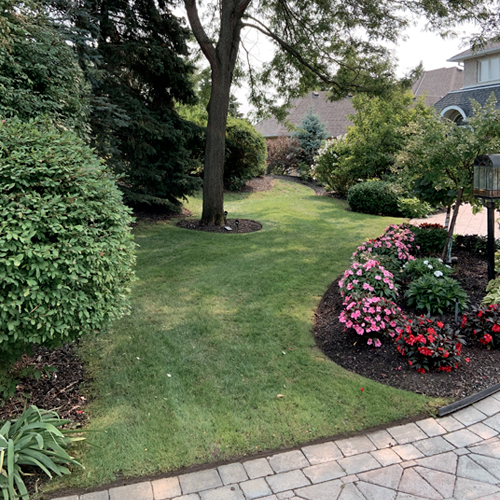 Why Choose Us?
In the unlikely event you're not totally satisfied with our services, you are fully covered.
We always deliver on our promises and are there when you need us.
Professional & Experienced
We have spent many years in the industry and have access to all the latest equipment.
We are a local team that always serves you with a smile.
The Benefits of Proper Lawn Care
Are you one of the thousands of Canadians who are fed up with wasting your weekends tending your lawn? Are you considering professional lawn care services but unsure if it's worth the cost? If you answered yes to both these questions, here are some reasons that may sway you to take the plunge:
Save your lawn from damage – Data suggests that a large percentage of Canadians have less than basic knowledge of lawn care. For instance, many respondents have no idea how often they should water their lawn or how to even grow a healthy lawn in the first place. If you are amongst those who have very limited lawn knowledge and don't have the time to improve, hiring a lawn care company might be your best option.
Reduced Physical Labour – Lawn maintenance is hard work. It is not uncommon for people to end up with sore muscles or even minor injuries after a day of lawn care. Bending over in the hot sun, elder homeowners are even more prone to overexertion and injury. So, if you struggle with mobility issues or would just rather save your strength, you might benefit from professional help.
Reduced Costs – this may seem like an oxymoron but hear us out. Taking care of your lawn requires specialist equipment, pesticides, herbicides, and many other products. Unless you know exactly what you're doing, you could end up wasting money on products that could harm your lawn, or that you don't have the skills to use. Hiring an expert will save you the cost of ineffective lawn treatments and the cost of correcting mistakes down the line.
Constant Care – with everything you have going on in your life, it can be extremely hard to take care of the lawn on a consistent basis. Hiring a professional will ensure that your lawn is taken care of properly and regularly. Also, professional lawn care companies can handle much more than you would on your own. For example, they can clear weeds from your driveway and patio on top of maintaining your flowerbeds.
Increased Home Value – if you plan on selling your home in the near future, a tidy and well-maintained front and backyard can add quite a few dollars to the selling price. After all, the lawn is one of the first things that potential buyers will notice.
If you live in the Durham area and are seeking expert lawn care at affordable prices, contact us at Royal Blue Property Maintenance today.
A well-kept garden to boost morale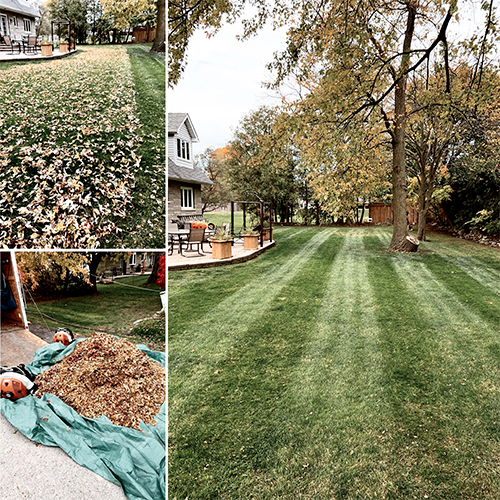 Ready to turn your backyard jungle into a carpet of green? We're the team to call!
Royal Blue Property Maintenance is a locally owned and operated lawn care company providing full-service packages throughout the Durham area. Call now to book your next service.

Royal Blue Property Maintenance is committed to ensuring that the collection and processing of data carried out by our
bluemaintenance.ca
site complies with the General Data Protection Regulations (GDPR) and the Data Protection Act. To know and exercise your rights, particularly concerning the withdrawal of consent to the use of collected data, please consult our
privacy policy